Protests, prayers as Arizona immigration law takes effect
07-30-2010, 02:38 AM
Post: #1
ttayehh
Administrator


Posts: 259
Joined: May 2010
Reputation: 0

Protests, prayers as Arizona immigration law takes effect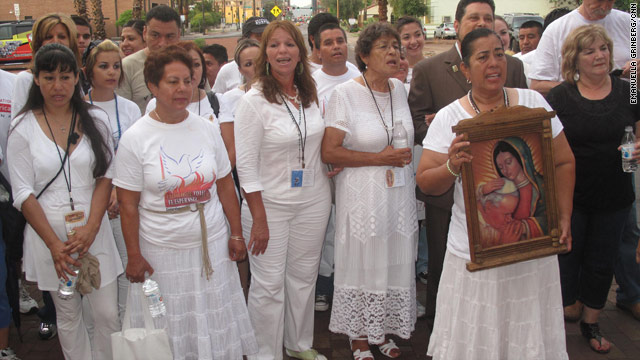 Phoenix, Arizona (CNN) -- The day after a federal judge halted parts of Arizona's new immigration law from taking effect, opponents of the legislation are hitting the streets with mixed expressions of relief and outrage over Wednesday's turn of events.
Several nonviolent demonstrations were planned Thursday throughout Phoenix to mark the passage of the legislation, which officially took effect at 12:01 a.m.
U.S. District Judge Susan Bolton's decision to grant a temporary injunction against some of the most controversial provisions of the bill came as a surprise to some opponents of the law, who thought that the conservative political climate made the legislation's enactment inevitable.
For them, Bolton's ruling had the effect of turning the would-be protests into displays of guarded optimism.
"We're using this opportunity to give thanks and prayer for what happened yesterday," said Phoenix resident Isabel Galindo.
Are you there? Send photos, videos
Dressed in a floppy hat and wearing a rosary made of red, white and blue stations of the cross, Galindo showed up at the state Capitol around 4 a.m. Thursday to participate in a march to the Trinity Cathedral for an interfaith service.
"I think it's wonderful what the judge did. I was totally surprised because so many people seem to support it. But now I hope we can stop it altogether."
The procession chanted and sang hymns in Spanish for parts of the two-mile walk, which began in darkness at the Capitol and ended at the historic church in broad daylight.
"I'm walking to show solidarity with all Latinos, legal and undocumented, who have ever known what it's like to be discriminated against because of their color," said Andrea Pardo, 28. "There's still a lot of work to do. This isn't a victory, it's just a way to buy time."
The tenor of another demonstration that began as soon as midnight hit took a more cynical tone. In the small community of Guadalupe, about 10 miles outside Phoenix, residents of all ages formed a human blockade of the town's main artery, preventing cars and public buses from passing.
"This is a symbolic gesture to show that we will not give our community over to the sheriff's office. For years, people in this town have been subjected to the kind of racial profiling that SB 1070 essentially gives legal sanction to, and we are not going stand by and let it happen," said Andrew Sanchez, a lifelong resident of Guadalupe and community activist who orchestrated the blockade.
Dressed in T-shirts that said, "Brown and Proud to be an American," and waving signs that read, "We will not comply," the crowd of about 50 remained for about an hour until deputies from the Maricopa County Sheriff's Office showed up and asked the protesters to leave.
"I consider it a success because we stood together as a community in front of the sheriff and didn't even have to get arrested," Sanchez said. "We are starting to get good at this."
http://www.cnn.com/2010/US/07/29/arizona....protests/